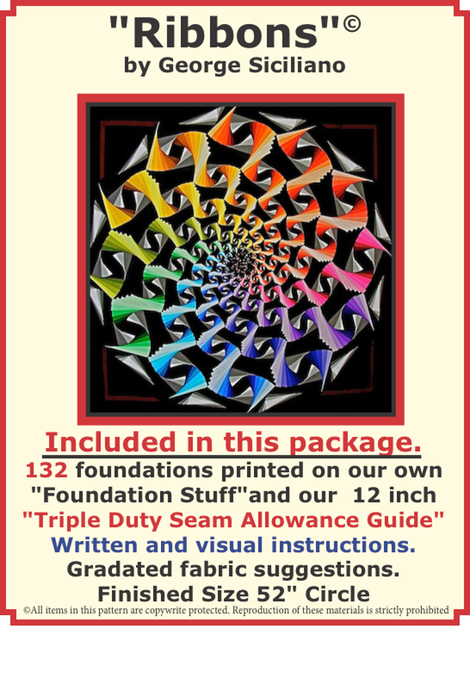 I have made a "pattern kit" available  for my quilt I call "Ribbons".  This is not just another pattern with a few sheets of paper you'll never make. 
This Pattern Kit comes with the following1.- 134 foundations printed on 60 pages of our Foundation Stuff.( We charge $3 for printed pages of Foundation Stuff) 
2.-18 pages of instructions and diagrams. (We  charge $2 per page of printed materials) 
3.-Our 12" "Triple Duty Seam Allowance Guide" Use of this "seam guide will make construction of this pattern a snap. 
The total price for this kit  is $190+$3 postage.(postage is always $3 no mater how much you order)* 
Unlike lots of patterns which leave you with more questions than answers this is one you will actually make and not stuff in the drawer. As with all of my patterns you may email me with a question and I will respond. I want you to finish this project.
      FABRIC IS PURCHASED SEPARATELY                                     
I can tell you that this pattern is loads of fun to sew and as with all of my patterns just follow the numbers. The happiest part? Well it's finishing and seeing this beautifull work of art and the saddest part is finishing. (what do you do now??) I'll have another one for you by then.  This quilt finishes out to a 52" circle. Larger if you include borders to square it  off .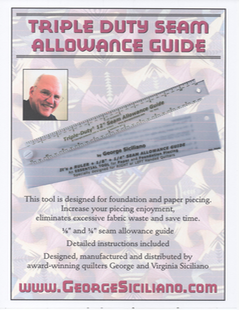 This is our "Triple Duty Seam Allowance Guide" If you have never seen or used this , you are in for a wonderful surprise. The instruction sheet is complete, the sequence in order to use this tool is printed right on the back of the tool and if you need a little more clarification just look at the tutorial below. I'm a show me kind of guy!